Presentation of the casino Lucky31
Lucky31 is an online casino, managed by a company based in Curaçao (Netherlands Antilles). Its website is available in seven different languages, including of course French and English, as well as German, Norwegian, Swedish, Finnish, and Portuguese.
Lucky31 offers a very large number of different games, starting with the classic slot machines, more than 370 games available, in this category alone!
You will also find table games such as 12 different blackjack games, 23 roulettes including European, American, English and many more.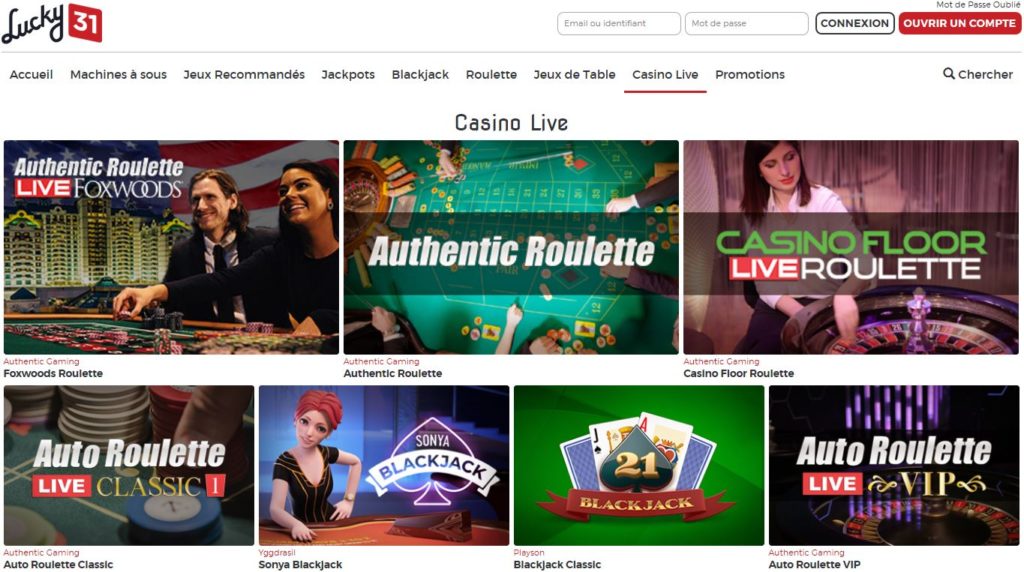 On the Lucky31 website you can play live on more than fifteen table games, just like in a real casino!
All the games on the site are available in Flash mode, so you don't need to download them. You can connect and retrieve your account from any computer with an Internet connection.
One of Lucky31's other strengths is its customer service. Indeed, the latter can be reached via an online chat, seven days a week, over very wide time slots, which can cover more than 15 hours on the same day. If necessary, you can therefore ask all the necessary questions and get an answer within the day.
This type of customer service is rare on online casinos, so it is important to emphasize this point. Especially since operators will be able to answer you in the seven languages offered by the site.
Regarding the financial part, Lucky31 is one of the few online casinos that allows you to make a deposit from only 10€! You can use your credit card or the Neteller and Skrill online wallets, but also by bank transfer. These different methods also work for your withdrawals.
We remind you that you should not bet amounts that you cannot afford to lose.
Like many of its colleagues, Lucky31 offers a deposit bonus. This is 131% within the limit of a deposit of 100€, which allows you to have a small profit to start well on the casino. Be careful to check the bonus terms and conditions so you don't get ripped off.
In addition to this deposit bonus, Lucky31 Casino regularly offers offers these customers new bonuses, draws for free bonuses and gifts, and SuperPoints (loyalty points).
Roulette games at Lucky31

Lucky31 offers more than 40 different roulette games, including no less than 30 live games.
Several types of roulettes are available, including the most famous, European and American roulettes.
In addition, with bets starting at 0.20€, and the minimum deposit being only 10€, you can start with a really small budget.
And even if it's Live, Lucky31 offers you to play almost 24 hours a day (which is not the case in some casinos where with Lives games, the hours are limited).
Lucky31 is a reliable casino and the proposed roulette games are perfect for applying the proposed methods to win. Don't hesitate any longer!